Today I wanted to share with you a project that I created for my guest post on one of my favorite blogs Hubby Made Me.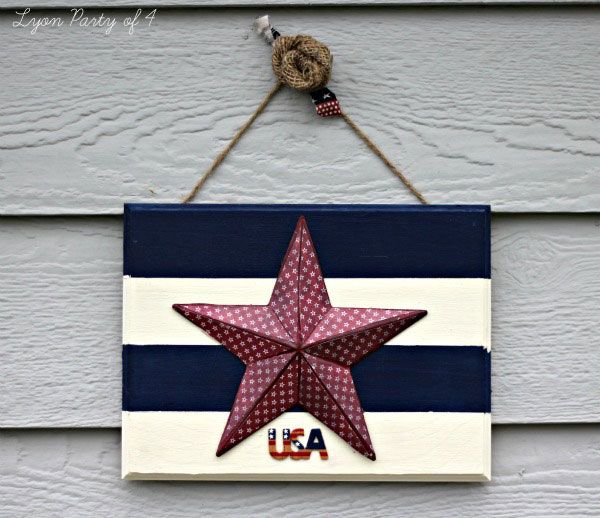 I love decorating for 4th of July and had a lot of fun making this wall plaque.  Not only is this project super easy, its cheap too!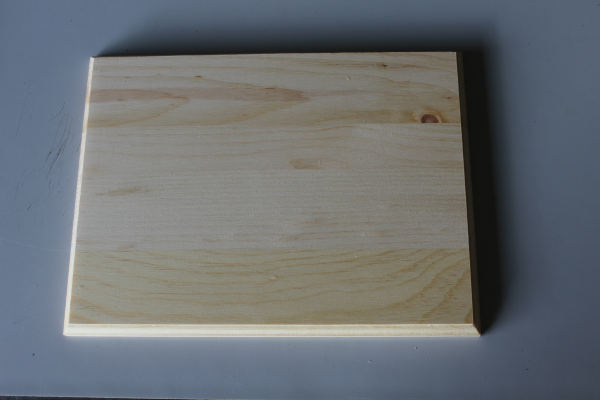 Start with a blank piece of wood any size you would like.  I actually got this from Wal-Mart but you can also get one from any craft store.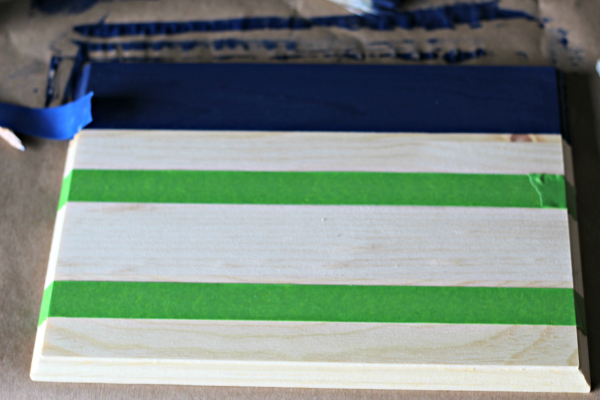 This part depends on the size of wood you purchased, but you measure horizontally and put down Frog Tape to make lines to get ready to paint.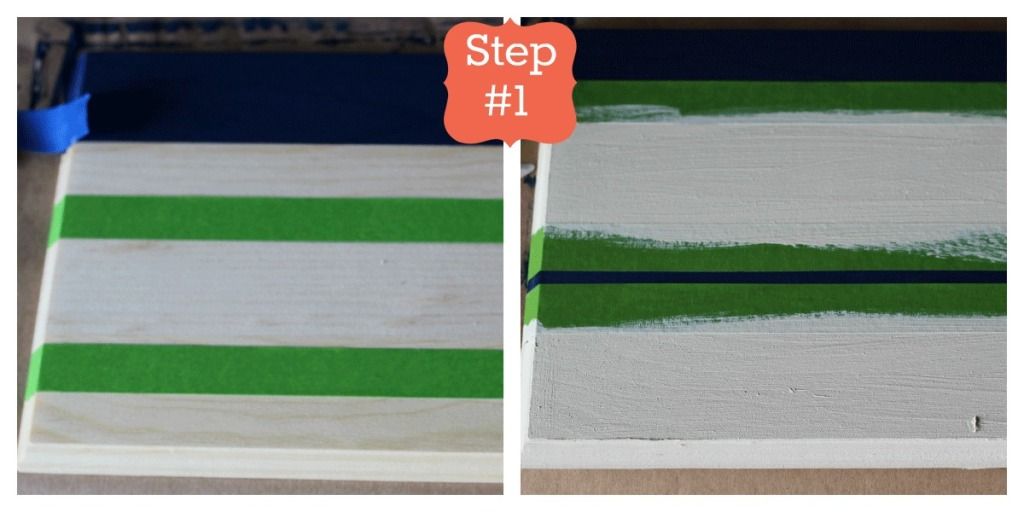 Go ahead and paint the each individual lines from Navy blue to ivory. You can use whatever kind of paint you like.  I did the blues first, let them dry then I did the ivory.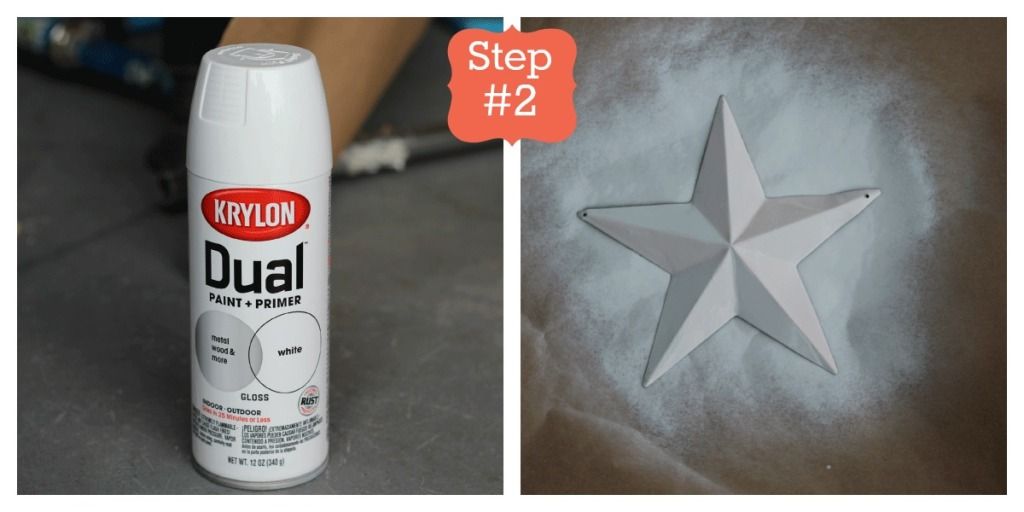 Next, I had this old metal star laying around, you can actually get one at any craft store.  I painted it with the spray paint & primer mix.  I am a huge fan of spray paint!  I keep tons all different colors for any projects I have.
Here in this pic you can see why I painted it white first, so you can still kind of see it under the red paint.  I like the finish of the paint when it dried.  Here I used Acrylic burgundy color.
Next, you want to go ahead and staple some hemp rope on the back of the plaque so it can hold.  The size of rope just depends on size of the plaque you use.
I purchased this small scrapbook wooden piece from Michaels.  I loved it as soon as I had seen it.  I figured it would add a little something for 4th of July.  I always have Mod Podge laying around, but you want use it to layer of the scrapbook piece. You want to put 2 or 3 layers over it.  It also leaves a glossy finish on the plaque.  If you want your plaque outside, you want to use the Mod Podge Outdoor.
Next, you want to trace over the star because you are going to cover the star with a 4th of July pattern of scrapbook paper of your choice.  You can even do all different patters on the star too.
After you trace the triangles, cut them out and then layer the star.  You want to first cover the star with Mod Podge, then fit the triangles on the star then cover with another layer of Mod Podge.  When it dries, its then clean and glossy.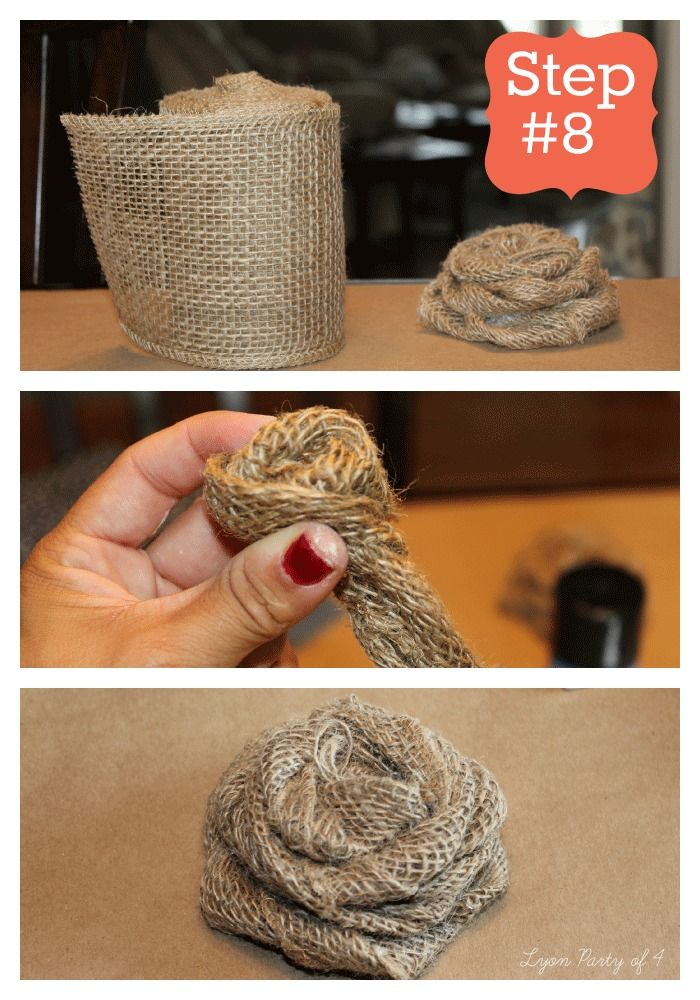 This part is probably the trickiest part of the whole project.  I had a roll of Burlap and wanted to make a rosette for the top so that the nail doesn't show when you hang the plaque.  To make the rosette, you want to cute a long piece off of the burlap roll.  Then fold it in half and twist and roll it up at the same time.  Once it is all rolled up, you want to hot glue gun the bottom to hold it together.  The rosette will depend on the size of the plaque.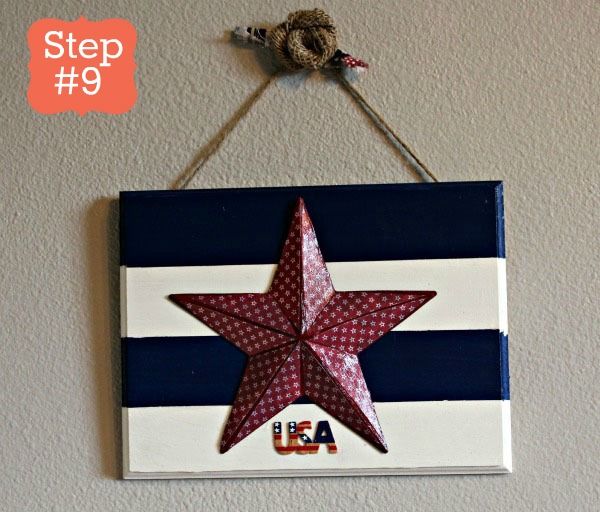 Last, you want to Hot glue gun the star onto the plaque.  I also wanted to add just a little bit more color, so I found some Red, White & Blue scrap material and ripped a piece off and tied it up top with the rosette.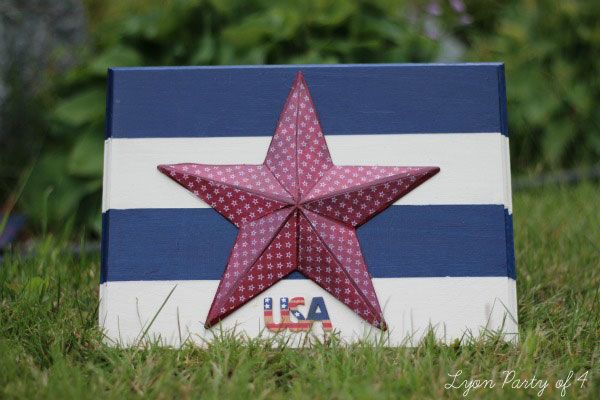 You can also just use it as a plaque without the hemp rope too.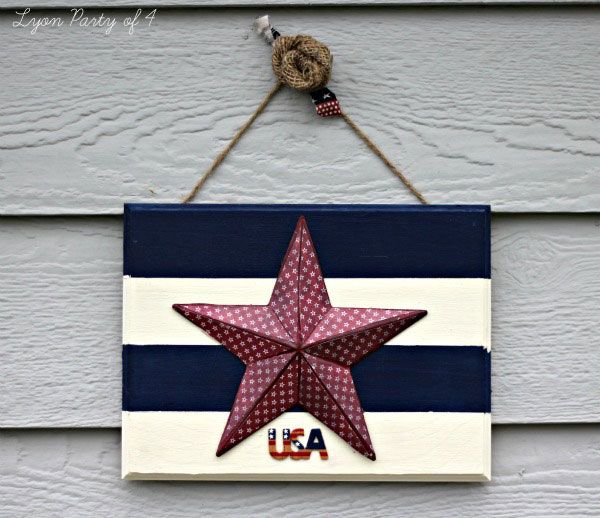 There you have it!  I hope you have as much fun creating this as I did!